Elegance and Simplicity
The Horizon straight stair lift offers a range of chair models tailored for the best fit and comfort when using your stairlift and available in a range of colours to blend with your decor.
A range of handy accessories and options are available, and will be specified when needed, at your home assessment.
This way you can be sure that your stairlift has been made for you, whether you need it inside or outside your home, where space is limited, or perhaps where a higher weight capacity is needed.
Horizon Standard Straight Stairlift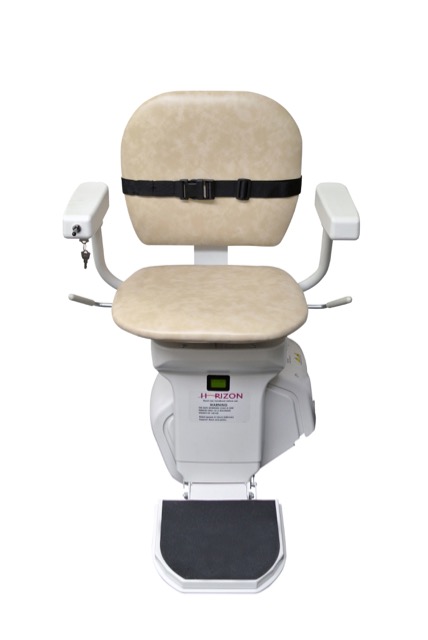 The Horizon Standard straight stair lift brings together the smooth ride and robust reliability for which Platinum Stairlifts are so well known, in an economic yet stylish package.
Of course, we won't compromise on safety, or the essential quality features in order to bring you a stairlift to suit those on a budget.
There are less options and add on features available, with a simple yet functional chair and that's how we can offer the Horizon Standard stair lift at exceptionally competitive prices.
Contact us to find out more and to arrange your free home stairlift assessment.
» Horizon Standard Features & Specification
Horizon Plus Straight Stairlift
The Horizon Plus Straight Stairlift offers the ultimate in flexibility and comfort alongside the stylish and slim-line design that defines the Horizon stair lift range.
From the choice of colours, to the powered options available as well as the choice of chair, with the fully adjustable Ergo and Ergo Plus seats, the Horizon Plus really is the next level in stairlifts and yet surprisingly affordable too.
Contact us and find out more or to arrange your free home stairlift assessment.
» Horizon Plus Features & Specification
Contact Us
More Information
Get a Brochure
Our Recent Projects
Testimonials
"... I love my Horizon stairlift. I would recommend it to anyone ..."
- Mrs N Connelly, Sydney
"... I don't know why I waited so long. What a relief! My stairs are easy now with my Ideal Stairlift ...."
- Mr P Edges, Lambton
"...my Curve stairlift is wonderfully smooth and leaves plenty of space on the stairs for others"
- Mr T Andrews, Putney