Platinum Stairlifts
Ideal Stairlifts use only high quality stair lifts from Platinum Stairlifts, one of the UK's leading stair lift manufacturers, for our Australian customers. 
All of our stairlifts are crafted in Platinum's own factories in England and built using only the highest quality components, and in accordance with strict design and quality guidelines.
Despite this commitment to quality and reliability a stair lift from Ideal Stairlifts is surprisingly affordable, with a solution for most budgets.
Platinum Stairlifts are designed to be easy to use, and to live with, ensuring that a solution can be provided for almost every situation and that the stairlift provided is both reliable and an attractive addition to your home.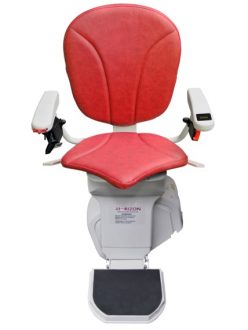 ERGO Stairlift Seat Just like the rails for your stairlift are custom made to be the perfect fit on your staircase, we believe that your stair lift seat should be the perfect fit for you. With this in mind, Platinum Stairlifts designers created the ultimate in fit and comfort...
Read more